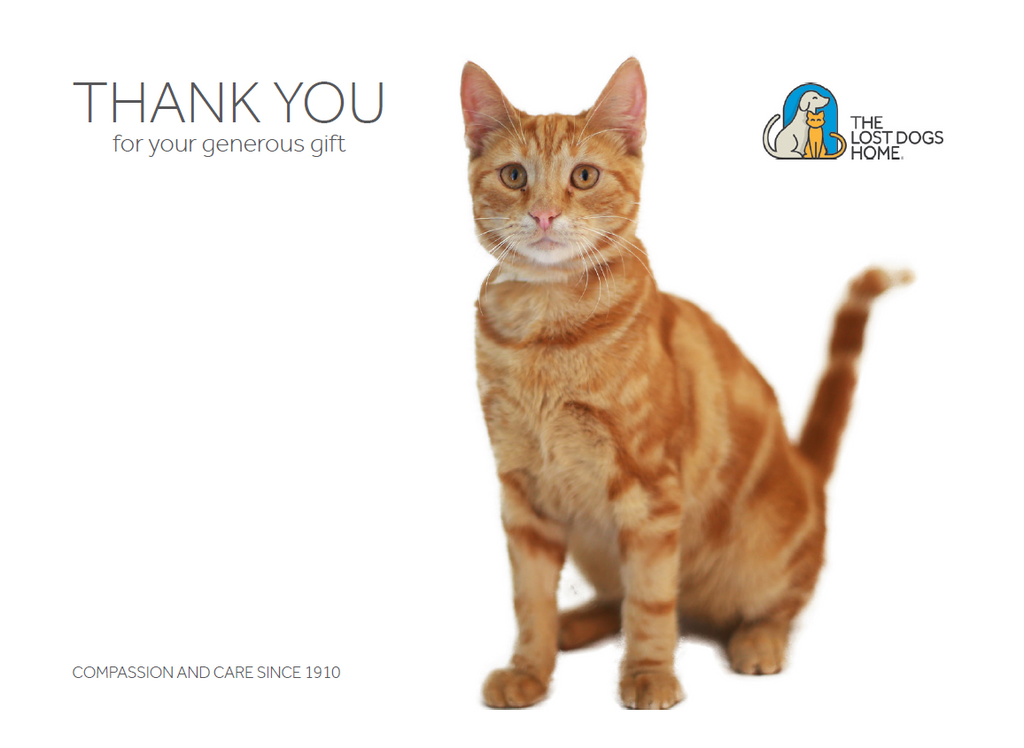 $60 Charity Gift Card - Give to Help Train & Support a Cat in Need
$60.00
By purchasing a Charity Gift Card, you help The Lost Dogs' Home provide urgently needed support to lost and abandoned animals – everything from expert veterinary treatment to loving foster care. 
The Charity Gift Card you buy represents a donation for things needed everyday at our shelters, such as nutritious pet food to feed hungry bellies, behaviour training to help prepare animals for adoption, and essential veterinary supplies to perform desexing and other critical surgeries to support the animal's health and wellbeing, as well as reduce the heart-breaking effects of animal overpopulation. 
What You're Supporting
We see so many animals surrendered or abandoned due to behavioural issues – the main issue being that they have never been properly socialised or trained. Your gift of $60 can help provide expert behaviour training and support to two animals in need, ensuring a bond is created right from the start.
What's Included

This is a Charity Gift Card with a message inside about how your gift may support the lives of lost and abandoned pets. It comes in a plastic slip with a plain envelope – the perfect gift for a fellow animal lover who will appreciate a gift that keeps on giving. 
How it's Delivered 
Our superstar volunteers help us pack and post your kind orders, particularly during the Christmas rush. We ask that you please place you order with Australia Post's Christmas sending dates in mind and choose a delivery option that's right for you to ensure you receive your items in time for Christmas. At this time of year, we appreciate your patience and understanding as we deliver your items to you. 
Every Purchase Makes a Difference
All proceeds from our Online Shop help The Lost Dogs' Home care for cats and dogs in need, and help give them a better future by raising awareness of responsible pet ownership within the community.